Impact through our operations
By continually examining how we can optimise our operational activities, we are able to improve our energy efficiency, lower our emissions and further reduce the quantity of raw materials required. In this section, we will explain what steps we have taken with regard to energy consumption and circularity within our operations and how these will contribute to our stated ambition to have halved our environmental impact by 2025.
Reducing our energy consumption
As a technology company, it is our task to ensure that the whole of the Netherlands can count on a reliable fixed and mobile network. The energy we need to keep all of our network locations running accounts for 91% of our total energy consumption. The remaining 9% goes to our shops (2%) and our offices (7%). At VodafoneZiggo, we purchase 100% sustainable electricity generated by European wind turbines. We are also working continuously to improve our energy efficiency and we are taking energy-saving measures. We also comply with important international rules such as the European Energy Efficiency Directive (EED), the Multiyear Agreement on Energy Efficiency, the international standard for energy management systems (ISO 50001) and the international standard for environmental management systems (ISO 14001).
In 2020, we continued to make significant investments in further modernising, simplifying and future-proofing our GigaNet network. One of the ways we achieved this was by removing old equipment from our network and replacing it with new equipment that is more energy-efficient. In addition, we have developed a completely new business network, the so-called 'Carrier Ethernet' network. The outdated business networks Neon and Metro were deactivated and all business customers were transferred to our new Carrier Ethernet network. This new network not only ensures even greater stability, but also energy savings and a reduction in the life cycle management costs.
We select the most energy-efficient equipment and software for our fixed network. That enables us to further reduced the energy consumption of our ever-growing network. We also write our own software codes to further automate our network. As a result of this, we are taking the energy savings to an even higher level.
Another important step we took last year when it comes to making our network more efficient was to completely switch off our 3G network in February. We were the first network operator in the Netherlands to definitively shut down its 3G network, thus enabling us to use our network, our masts and our capacity in a smarter and more efficient manner. Switching off our 3G network provided a gross energy saving of 17.4 GWh in 2020.
Increasing the sustainability of our data centres
Innovation continued to play an important role in our data centres in 2020. A team of technicians and experts is continually working to further optimise the infrastructure. A significant part of this involves managing the extraction and supply of hot and cold air in the smartest possible way. We work together with suppliers to ensure that we are able to utilise the best possible innovations and the most energy-efficient solutions in our data centres. We share our knowledge and create test set-ups to stimulate the ongoing development of the equipment.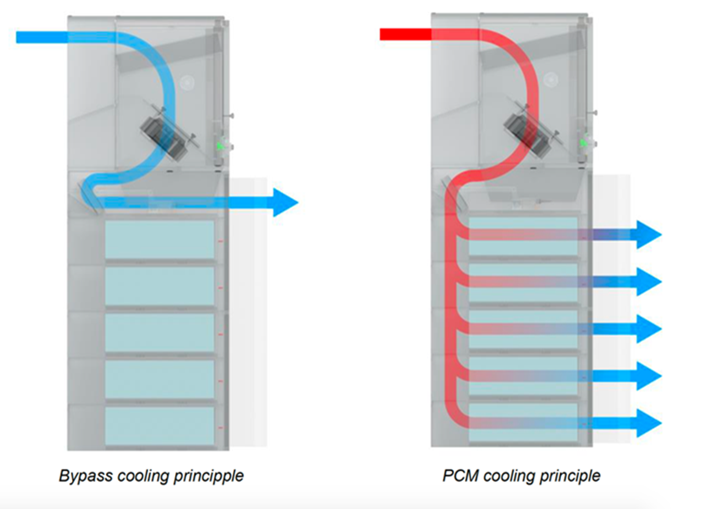 In 2020, we applied the PCM cooling principle in our data centres. Phase Change Material (PCM) is based on the natural product calcium salt and absorbs the heat produced by our servers during the day. By absorbing the heat, it cools our server rooms, before subsequently recharging during the night for the following day. This enables us to cool our data centres in a more efficient way, thus saving CO2.
Increasing the sustainability of our products
We look at each product we bring onto the market, in order to identify potential ways of making the product more sustainable and energy-efficient. As far as our modems and media boxes are concerned, we are working together with our parent company Liberty Global for this. We're making our modems more and more powerful, because the data usage per household is increasing considerably. However, energy consumption is not rising. This has everything to do with the increasingly smart and efficient hardware.
Our media boxes are also undergoing constant development with a view to sustainability. One example of this is the Mediabox Next, which was introduced in 2019. Making recordings and playing them back takes place in the cloud – and no longer via a hard disk inside the device. This means that fewer materials are needed to manufacture a media box and the media box is becoming smaller. Therefore, energy consumptions is also falling. What is more, when we deliver our media boxes to our customers, they are set to eco-mode as standard, which means that they consume less energy. After delivery, customers can change the mode themselves if they wish. An overview of the energy consumption of our various media boxes can be found on our website.
VodafoneZiggo is cooperating in the transition to a circular economy – an economy in which we give products a new lease of life, recycle raw materials and encourage people to use products for longer. We are fully aware that there is still a long way to go and that standing still means falling behind. That is why we are always on the look-out for new opportunities, possibilities and innovative solutions to reuse more, to extend the service life of our products and to produce less waste.
Vodafone marketplace – Circular network

From the time when we remove old equipment from our network because it's no longer needed (such as when switching off our 3G network) or is ready for renewal, we no longer regard it as waste. Along with our parent companies Liberty Global and Vodafone Group, we have been using Vodafone Marketplace since the beginning of 2020. Vodafone Marketplace is a marketplace in which old equipment and network materials, such as old masts, are sold so that they can be reused elsewhere within the global Vodafone ecosystem.

Maintaining our network also involves installing materials in the ground, such as plastic pipes and cables. This is another area in which we work in close collaboration with suppliers, intermediaries and our parent companies, to ensure we have the right materials at our disposal. Materials that have been produced in a responsible manner and carry a green label or quality mark. Or, if the application allows, degradable products.
Towards circular products
Innovation is an important pillar within VodafoneZiggo. We want to reduce our environmental impact by seeking innovation and improvement of our entire production chain. When developing products such as modems and media boxes, we don't just look at energy efficiency. We also take a close look at the quantity and the origin of the material that is required to manufacture a product. It's no coincidence that our modems and media boxes are getting smaller all the time. In this way, savings are made on materials used. For example, the Mediabox Next, which was launched in 2019, no longer has a hard drive, as it is connected with the cloud. That doesn't just mean a lot less energy consumption. It also saves material during the production process. In the case of the materials that are still needed, we use as much 'renovated' material as possible.
Towards a circular logistics process
Whereas we started using biodegradable materials in our logistics processes in order to fill up empty spaces in boxes in 2019, we took steps in 2020 to reduce the quantity of packaging materials even further. One of the ways we did this was by adjusting the design of our packaging, as a result of which less wasted space is left in boxes. This enabled us to reduce the amount of materials used in our shipping boxes by 30%. In the case of the packaging for our 'All-in-1' packages, the saving in terms of materials used was as much as 70%.
With effect from the second quarter of 2021, we will no longer send out renovated media boxes and modems to our customers packed in plastic. This will significantly reduce our plastic consumption by around 5,000 kilos compared to 2020. What is more, we haven't sent out any products in double packaging since 2019. Before that, a packaged product was sent in an outer box for protection purposes. By doing away with the outer box, we succeeded in reducing the quantity of packaging materials used in 2020 and as a result of this were able to fit 20% more boxes on a pallet.
What is more, we launched an initiative in 2020 to eliminate plastic from the consumer packaging of smartphones. As a result of a revamped and smarter box design, we managed to save 1.5 million plastic air cushions. The boxes have also been made smaller, which means that 30% less volume now needs to be transported on an annual basis,. Given the success of this project, we decided to take a close look at the packaging of accessories in 2021. We are also looking into ways of making the accessories that we sell more sustainable, for example by using recycled plastic.
Towards a circular office environment
Within our office environment, we strive for recycling all of equipment. Desktops, laptops, batteries, smartphones, tablets, keyboards and printers are not thrown away, but go to recycling companies, where they are refurbished for reuse or are used for sustainable processing into other products and raw materials. We work paperless at our offices as much as possible. As a rule, we send messages electronically to customers, suppliers and other stakeholders. Our coffee cups are also 100% recyclable. After use, they are collected and processed into raw material for tissues and serviettes. The coating from the cups is reused in plastic products. In this way, we save 194 kilograms of CO2 per 1,000 kilograms of coffee cups. Even the coffee residue itself is collected and used in the cultivation of oyster mushrooms.