Impact via our people
Together, we can achieve more. That is why at VodafoneZiggo, we devote a great deal of attention to inspiring and motivating our people to work and live in an environmentally-conscious way. What we want is for everyone at VodafoneZiggo to be aware of the impact, both positive and negative that we are having on our environment as an organisation. The journeys that our employees take from home to work account for a large proportion of our CO2 emissions. That is why we were already encouraging our staff to embrace hybrid working and to use public transport as much as possible before the advent of COVID-19. The arrival of COVID-19 simply served to fast-track our efforts.
Reducing the environmental impact of commuting
Our mobility policy focuses on encouraging as many of our staff as possible to travel to and from work using public transport. That is why we give our people a first-class Dutch Railways (NS) season ticket and we've chosen, for example, to establish our head office next to the Central Station in Utrecht. This led to a decrease of 125 lease cars in 2020 compared to 2019. The result was a fall of 59% in the total fuel consumption in 2020 and our CO2 emissions due to commuting also fell substantially due to the fact that more people worked from home because of the COVID-19 outbreak.
Reducing the environmental impact of our business trips
Every day, VodafoneZiggo helps thousands of customers to stay connected at home or at work.
For a number of our employees, the car is an indispensable means of transport. Examples include our service technicians who need to be on-site as quickly as possible if problems with the network occur. What's more, they often need to take a lot of tools and materials along with them.
Nevertheless, we are currently looking at various possibilities to reduce these emissions too. One of those steps, the implementation of which was accelerated partly due to COVID-19, is to offer technical support remotely by means of a digital technician. These technicians have a lot of experience with people at their homes and can carry out checks remotely and offer customers guidance with the steps to be taken that a technician would otherwise carry out himself/herself. This only applies, of course, to some of the activities.
In addition to our technicians helping customers remotely, we are also looking to see whether our colleagues from customer service can also provide support with such activities, by giving them clear instructions for this. In 2020, we saw a 9% reduction in CO2 emissions by our technicians due to less travelling.
Together with our installation partner, Guidion, we're happy to be leading the way with our ambition to make as many customer visits as possible 100% environmentally friendly. We are developing various initiatives for this in order to keep travel distances as short as possible and to drastically reduce our emissions per kilometre. We launched one of those initiatives in 2019 and 2020 in the form of a pilot to use an electric cargo bike instead of a car for installations. For example, we've already been regularly spotted on the bike in Rotterdam, Amsterdam and Utrecht. Customers, passers-by and technicians have responded very positively to this. As well as being good for the environment, using cargo bikes is often quicker in the city centre, for example along the canals in Amsterdam or at spots you're no longer allowed to reach with vans. In addition, parking is simple and free.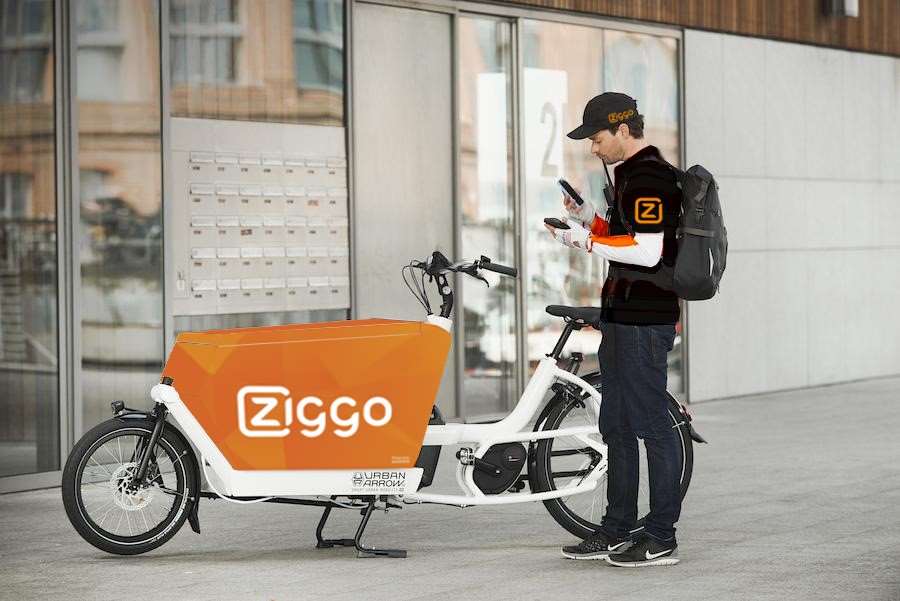 Our people are our most important ambassadors. Without them, there will be no transition towards a more sustainable organisation. In the past year, a great deal of time and effort has been devoted to informing, involving and inspiring our employees. We believe that it's important for everyone within our organisation to be aware of our sustainability strategy and for them to understand why it is necessary. That is why we organised the People, Planet, Progress festival in November 2020. This was an online festival that took place over a number of days, during which we involved our staff in our CSR strategy by means of webinars, presentations and online workshops. Considerable attention was devoted in the programme to the impact we are having on the environment, both as an organisation as well as individuals, and to the possible ways of reducing this impact. A number of webinars went deeper into our environmental impact, how we can halve that together and the relevance of climate change. More than 700 colleagues took part in those webinars. To create an awareness of our ecological footprint, we also organised the footprint challenge. Over 200 colleagues took part in this and together they reduced their personal footprint by 11%.