How we create value for our customers
Putting the customer first. At VodafoneZiggo, we don't just say this, we do it too. In order to also be able to make an impact for our customers in the long term, we have to keep investing in happy and satisfied customers. We do this by really listening to our customers. The feedback that we get from them – both indirectly via customer panels, market research, social media, big data and directly via our employees – is vital because it ensures our strategy always fulfils our customers' needs, whether this relates to the product that is being purchased or the related customer journey.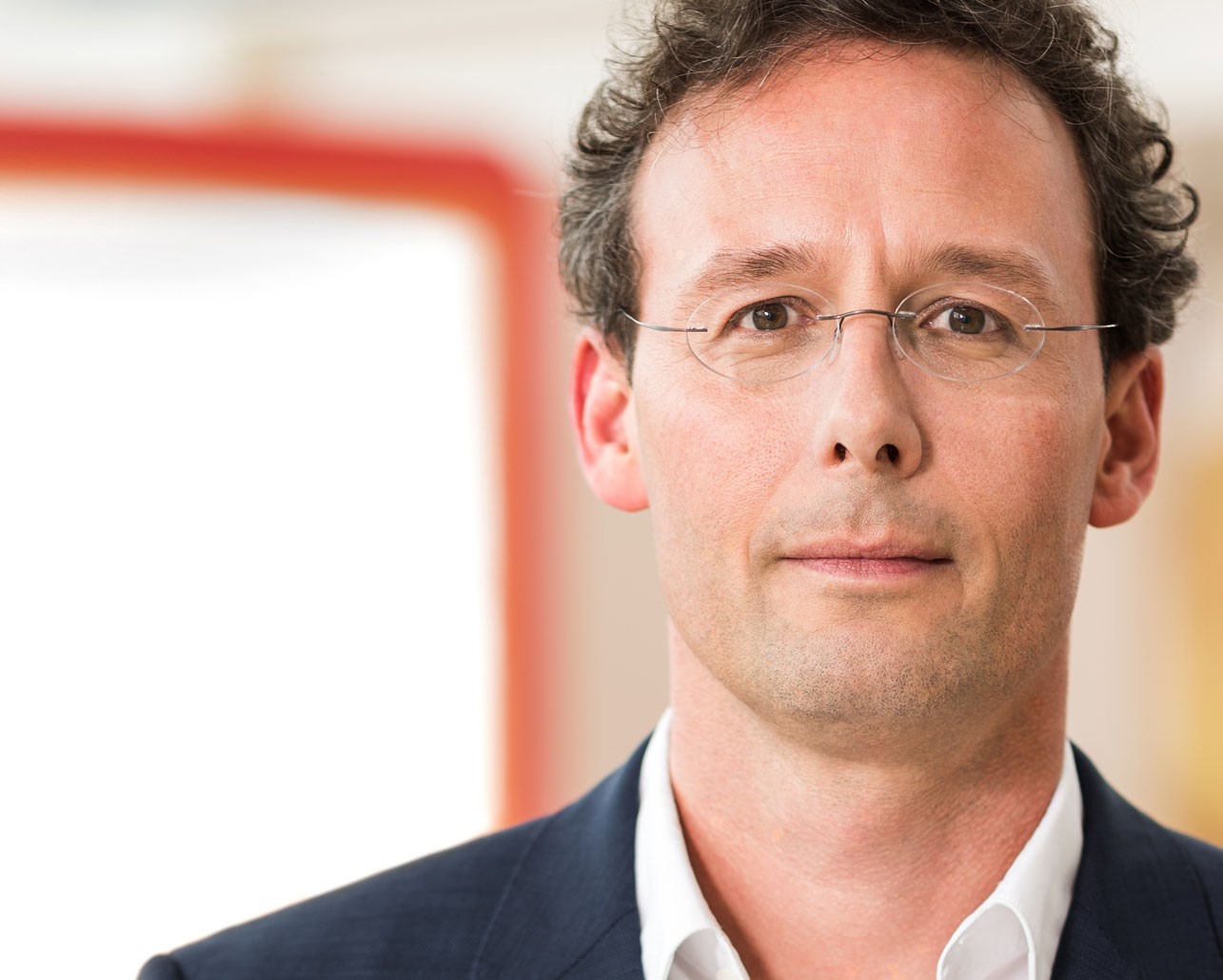 "Customers have high expectations, especially in these times of coronavirus. Our main objective is to fulfil their wishes as much as possible. In 2020, this led to even more effective service. Thanks to technological innovations, VodafoneZiggo's technicians don't have to visit the customer so often and can instead provide assistance remotely, and often faster too. More and more customer contact now runs via chat, Twitter and other digital channels. This makes our customer service more accessible. Digital innovations allow them to link up faster and deliver better customisation."
Robin Clements
Executive Director Customer Operations
| | | |
| --- | --- | --- |
| | Result 2020 | Result 2019 |
| Number of SIMs prepaid  | 432,700 |  581,200 |
| Number of SIMs postpaid  | 4,757,100 |  4,483,700 |
| Fixed customers  | 3,863,000 |  3,875,100 |
| Mobile customers  | 5,189,800 |  5,064,900 |
What customers expect from us
Even before COVID-19, we saw that our customers were becoming increasingly critical. They know what they want more, because they to their homework online and compare VodafoneZiggo with other organisations, not just those in the telecommunications sector but outside it too. This critical approach keeps us on our toes and ensures that we are constantly developing and improving.
Now that everyone is spending a lot more time at home, we see that our customers are demanding even more from us in terms of quality and service. Data usage per household rose considerably because people are working, learning and relaxing at home, all at the same time. In the past year, our customers have become more dependent on our services. Apart from our efforts to provide the consumer with good service, we also satisfied the business market's increased needs. Examples include hospitals, which now more than ever have to be able to rely on a fast, secure and stable network.
What we do to fulfil our customers' expectations
We are aware of our social responsibility. Our customers must be able to count on us. First of all, this means that they must be able to rely on us to deliver what we promise. And that if we are ever unable to do so, we will manage expectations in time, communicate clearly and, above all, provide a solution. Our social responsibility does not end with us fulfilling our core tasks. These new circumstances, in particular, require flexibility and creativity.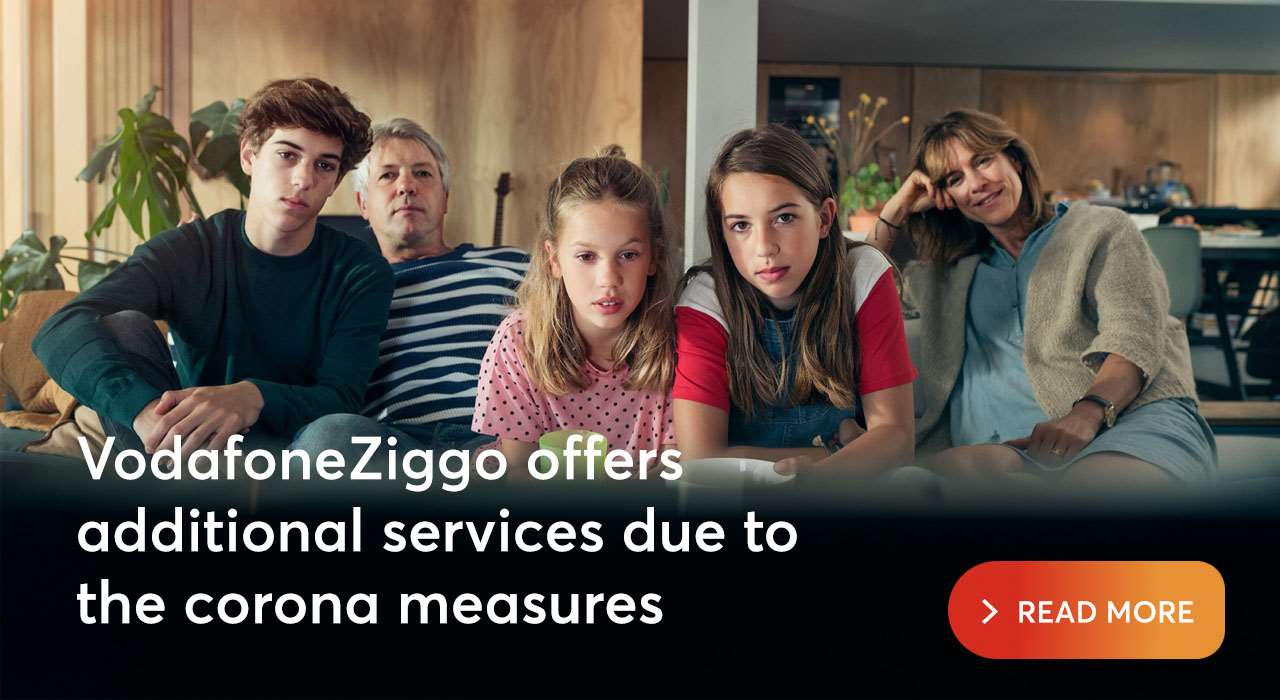 Customer-oriented organisation
Seeing through the customer's eyes is in our DNA. We take the customers and their needs as the point of departure for each decision. We also involve them in the development of new products and services. With staff drawn from various disciplines and departments, we are working on a common goal: to help our customers further as effectively as possible and to improve the customer experience. We conduct research into customer experiences, translating our findings directly into processes, products and services.
In our Experience Centre, we use innovative techniques to analyse our customers' current and future needs and bring them to life. We test new concepts here together our customers and colleagues. We examine what the future of their company or (official) organisation will look like, which opportunities and challenges they could face and which products and services offer the best possible solution for this.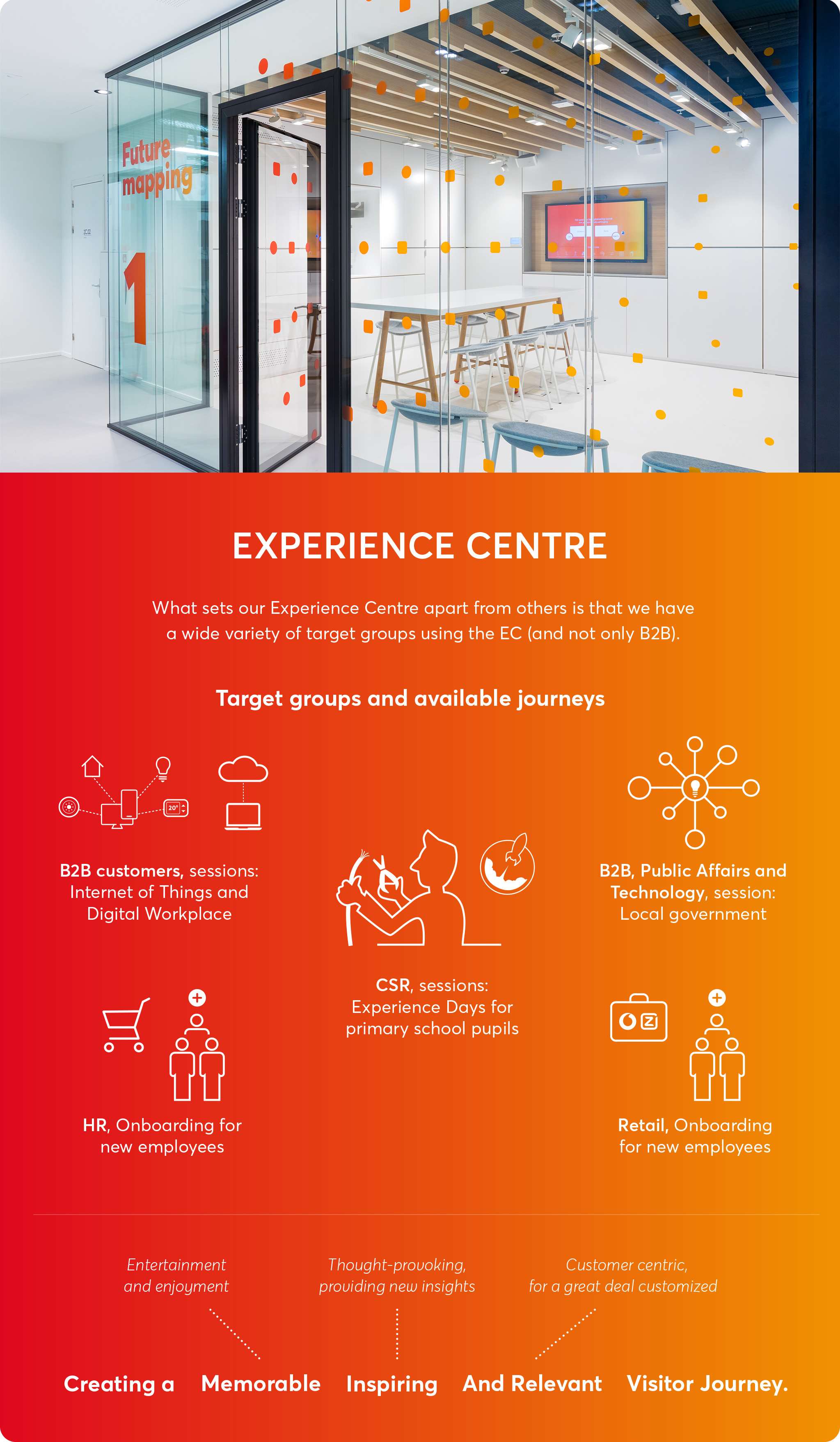 Customer satisfaction largely depends on the experiences that customers have with our people. This is why we do all we can to make this contact as pleasant as possible. In 2020, the pressure on our customer service increased substantially compared to previous years. This was mainly caused by the increasing number of questions that we receive due to working from home en masse. Adapting our call centres to the new homeworking situation played a role too, as did the fact that we want to guaranteed a safe working environment for our technicians at all times. Despite the difficult circumstances, we succeeded in safeguarding the quality and speed of our service. Our remote technical support was implemented at an accelerated rate. This means we can now assist more customers remotely with more complex technical faults or problems.
In recent years, we have seen a major shift in the way that our customers contact us. Although contact by phone or e-mail remains popular, about 20% of our customers now contact us via online channels such as chat, Twitter or Facebook. Our customer service is therefore faster and more accessible. TOBi, our chatbot, also contributed to this; a robot that uses artificial intelligence to answer frequently asked questions. This allows us to answer some of our customers' questions. If customers are unable to figure things out with our chatbot, they are transferred to one of our employees.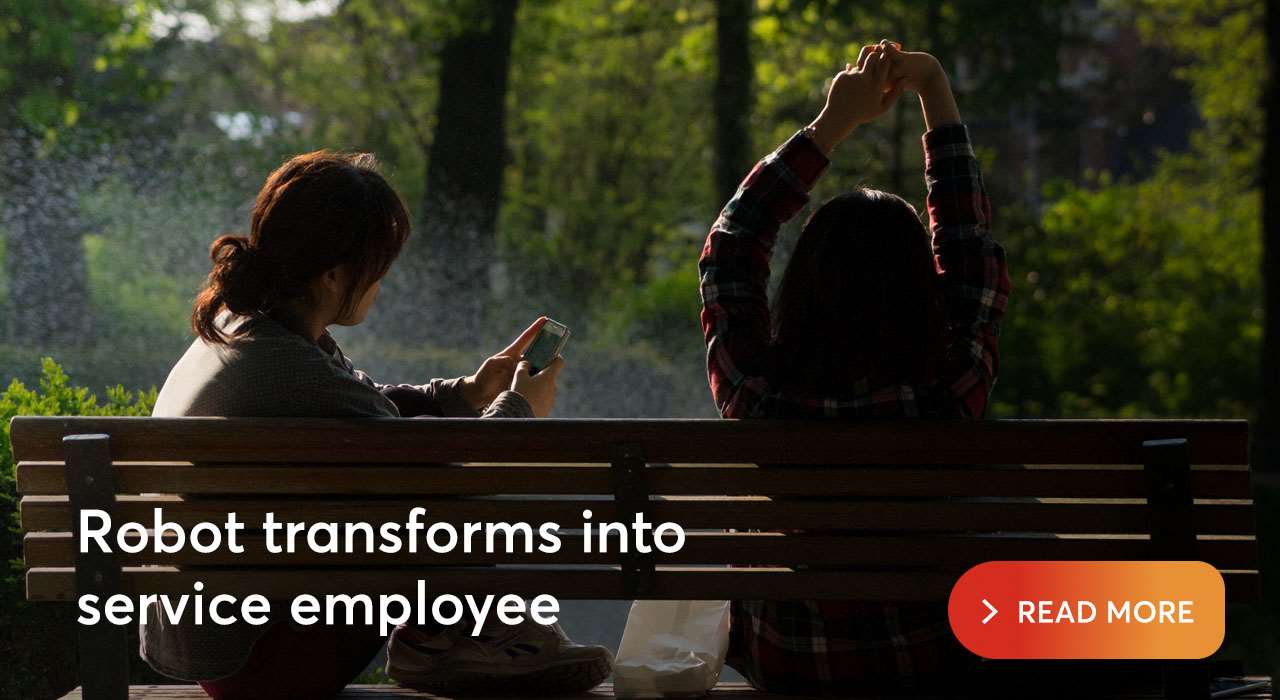 Optimal contact with customers: GURU
We want to offer our customers a service that is relevant as possible and we are increasingly using personal marketing to do this. Where possible, we want to respond to our customers' personal preferences. We base what we offer (sales and service) on what we know about a customer. This allows us to approach our customer via the right channel at the right time with the right message. In order to make this possible, we have set up GURU. This program collects relevant data about our customers. As a result of that, we are able to offer them individual, personal, real-time and relevant service. We very expressly only do what the customer wants: it is always the customer who decides which data to share with us.
We make customer experiences clear by identifying the customer journey on the basis of customer data. Together with the customer, we examine the different processes step by step. What do customers experience when using a new product? What do they encounter if they contact our customer service? We are continuously adjusting the customer journey on the basis of those experiences. Big data helps us to do this. For example, by predicting the risk of cable damage or by notifying us in time when components housed in street cabinets need replacing.
Satisfied customers usually stay with us longer and are more likely to recommend our products and services to others. They are therefore responsible for the sustainable growth of our company. We measure our Net Promoter Score (NPS) to show the level of customer satisfaction. We obtain this score by measuring our customers' satisfaction in three areas: loyalty, the customer journey and our products and services. We do this for our brands Vodafone, Ziggo and hollandsnieuwe, distinguishing here between consumers, business customers and those who purchase our combined services.
| | |
| --- | --- |
| | Result 2020 |
| Net promoter score (NPS) Vodafone (consumer)  | 20  |
| Net promoter score (NPS) Ziggo (consumer)  | -3  |
| Net promoter score (NPS) hollandsnieuwe (consumer)  | 22 |
| Net promoter score (NPS) combined services Vodafone (consumer)  | 27  |
| Net promoter score (NPS) combined services Ziggo (consumer)  | 7  |
| Net promoter score (NPS) Vodafone (business market)  | -4  |
| Net promoter score (NPS) Ziggo (business market)  | -13  |
| Net promoter score (NPS) combined services Vodafone (business market)  | 6  |
| Net promoter score (NPS) combined services Ziggo (business market)  | -4  |